BBC broadcast
June 1, 1965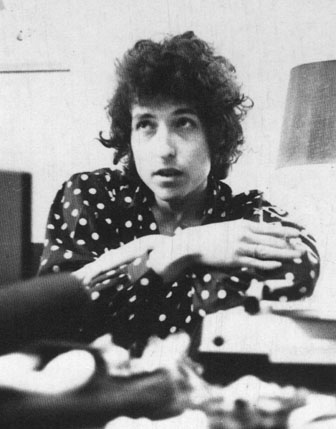 Ballad of Hollis Brown
Mr Tambourine Man
Gates of Eden
If You Gotta Go, Go Now
The Lonesome Death of Hattie Carroll
It Ain't Me Babe
Love Minus Zero/No Limit
One Too Many Mornings
Boots of Spanish Leather
It's Alright Ma, I'm Only Bleeding
She Belongs to Me
It's All Over Now, Baby Blue
The first tape I heard of this 1965 British television broadcast sounded as if it were recorded with an open mike sitting right next to the TV speaker, and this was the recording that had been available for years as the 2-lp vinyl boot called The BBC Broadcast, but fairly recently a much improved recording has surfaced. It appears to come from an acetate, possibly direct from the BBC studios. Although there are crackles, the sound quaility is still very good and well worth having.
Even though these performances were videotaped for the BBC, and were eventually broadcast in two separate showings, no video of either show is known to survive. Apparently the BBC simply reused their videotape after being broadcast and neglected to keep what turned out to be historic performances! The acetate is probably all that we're like to have.
What makes this tape so interesting is the choice of songs and the intimate manner in which he performs them. Of special interest: One Too Many Mornings, Boots of Spanish Leather, It's Alright Ma, and Mr. Tambourine Man - all great versions.
This tape is a must.
CDs:
The Circus Is In Town
1965 Revisited
LPs:
---

Back to Tape Index