Forest Hills
August 28, 1965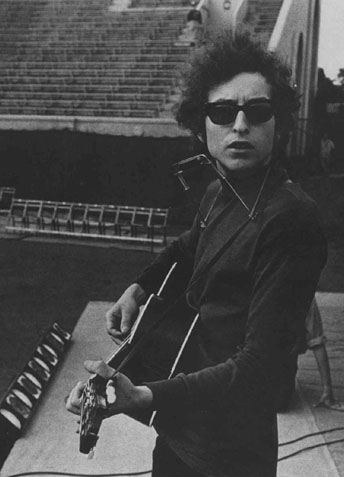 She Belongs To Me
To Ramona
Gates Of Eden
Love Minus Zero/No Limit
Desolation Row
It's All Over Now, Baby Blue
Mr Tambourine Man
Tombstone Blues
I Don't Believe You
From A Buick 6
Just Like Tom Thumb's Blues
Maggie's Farm
It Ain't Me Babe
Ballad Of A Thin Man
Like A Rolling Stone


I think this is Dylan's greatest concert. That's a pretty audacious thing to say, considering the vast body of live work that Dylan has presented to us throughout the years, but I really hear something special and truly magnificient in this, his first concert to feature a full electric set. It's a shame that there isn't a better tape of this event, but until an as yet undiscovered PA tape comes to light, this will have to do.

This show is legendary, and for anyone who doubts that 1965 audiences heaped great scorn on Bob Dylan and his electric crew, all they need to do is listen to this tape to hear the audience's point of view. There is so much hostility directed toward the stage that it's frightening. Coming as it does after the shocking Newport appearance with members of the Paul Butterfield Blues Band, the audience for the Forest Hills show pretty much knew what to expect, and the majority showed extreme displeasure during the electric half.

But first we have the acoustic set, which was very well received. The crowd was quiet and respectful for the 45 minute opening set, which followed a typical top-40 disk jockey introduction more appropriate for a Dave Clark Five concert than a Bob Dylan concert. This show featured the debut of "Desolation Row", from the Highway 61 album which was yet to be released (only a few days away, in fact). It's a great performance and it went over very well with the crowd, who laughed appreciatively at the lyrics. It must have been amazing to sit there and hear a brand new masterpiece like "Desolation Row".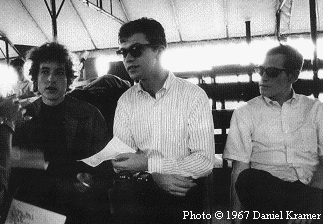 After the well received acoustic half came to an end with "Mr. Tambourine Man", the band set up for the second half. No doubt the crowd was gearing up for the hostility that was to follow. Another DJ (was it Murray the K?) introduces the electric set to tremendous catcalls and booing ("It's what's happening, baby"). The band consisted of Robbie Robertson on lead guitar, Levon Helm on drums, Harvey Brooks on bass, and Al Kooper on keyboards. It is essentially a marriage of the Highway 61 sound with the future Hawks sound of the 1966 tour, but it actually sounds exactly like neither. It's like no other Dylan concert we have on tape (or did have, until the recent discovery of the Hollywood Bowl concert from September 3). The electric half featured no less than the debut of four songs and a fifth ("Like a Rolling Stone") that had been released as a single a month before and played live at the Newport Festival soon after.
The crowd is so loud and belligerant at times that it becomes extremely hard to hear the music, but what can be heard is awesome. Levon lays down a muscular beat that drives the music forward and Robbie plays tough blues licks as only he can. Al Kooper pretty much plays the way only Al Kooper can, and is most effective on "Just Like Tom Thumb's Blues" and "Ballad of a Thin Man". The latter features one of Dylan's live tricks -- he vamps on the piano intro for several minutes until the crowd quiets down somewhat. The tape has most of this edited out, though. "Ballad of a Thin Man" is played very close to the album version, and by the time he's finished with it the crowd has for the most part come to realize that not only can they not stop Dylan from playing rock and roll, but that it's actually pretty damn good rock and roll too! They even clap and sing along with "Like a Rolling Stone", which to me sounds a little weak and (dare I say it?) bubblegummish. It doesn't help that Kooper attempts to play his trademark organ part on electric piano instead. It doesn't really work.
As previously mentioned, the tape is of poor quality. In fact, I think it's one of the worst sounding audience tapes I've ever heard. An yet it's one of the top four or five Dylan concert tapes of all time, and still what I consider to be his all time greatest concert. This was one of those moments where he stood on the edge of time and faced up to his place in history and found himself equal to the challenge. Had he retreated at this show into doing exactly what the audience wanted him to do, we would not be celebrating his career some 30+ years later.
CDs:
---

Back to Tape Index