Another Side Sessions
June 9, 1964
released August, 1964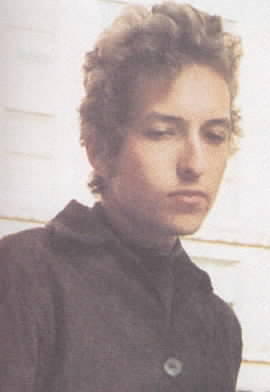 All I Really Want to Do (released)
Ballad in Plain D (released)
Black Crow Blues (released)
Chimes of Freedom (released)
I Don't Believe You (released)
I Shall Be Free #10 (released)
It Ain't Me Babe (released)
Motorpsycho Nightmare (released)
My Back Pages (released)
Spanish Harlem Incident (released)
To Ramona (released)
Mr. Tambourine Man
Denise
California
I'll Keep It With Mine
The songs for this album were supposed to have been recorded during one long session on June 9, 1964. Legend has it that Dylan was fortified with a bottle or two of wine during the sessions. The looseness of many of the tracks seems to testify to this story. Whatever the reason, I find this session to be extremely enjoyable and the resulting album one of his best.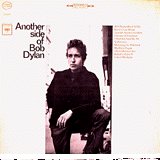 A few of these tracks are played on piano. These include: Black Crow Blues (the only piano number to show up on the album), California, Denise, and I'll Keep It With Mine. The version of I'll Keep It With Mine that appears on Biograph was once thought to be from these sessions but that turns out to be from the later Bringing It All Back Home sessions instead. The version here is very different and sounds oddly very similar to the later cover versions by Nico and Fairport Convention. Perhaps they heard this version as a demo?
It seems that the piano songs were recorded in one swatch, or at least it seems likely to me. Once seated at the piano, and the mikes positioned, it would be natural to continue pounding out songs in that format until ready to move on to something else. Thus the piano songs sound improvised to me. Personally I would have chosen California to go on the album instead of Black Crow Blues, but if that had happened we would be talking about the great lost Black Crow Blues instead of California so it doesn't really make much difference in the long run.
The recent discovery of the Emmett Grogan acetates has also uncovered a previously unheard alternate version of I Shall Be Free No. 10, although fragmentary and eventually edited together with other incomplete takes of the same song to produce the final released version. The Highway 61 Interactive CD presents yet another previously unheard version of the same song. The real jewel of the Grogan acetates, however, is the appearance of Mr. Tambourine Man with Jack Elliott singing harmony on the chorus. This was the version used as a demo by the Byrds. The reason why it doesn't appear on the album was because it was felt that Elliott's vocal wasn't strong enough.
Sound is excellent - studio quality.
CDs:
LPs:
GWW - Talkin' John Birch
Stealin'
Let Me Die In My Footsteps
---

Back to Tape Index