Times They Are A-Changin' Sessions
August and October 1963
released January, 1964
[August]
Ballad of Hollis Brown (released)
Boots of Spanish Leather (released)
Suze (The Bootleg Series)
North Country Blues (released)
One Too Many Mornings (released)
Only a Hobo (The Bootleg Series)
Only a Pawn in Their Game (released)
Paths of Victory (The Bootleg Series)
Percy's Song (Biograph)
Seven Curses (The Bootleg Series)
Walls of Redwing (The Bootleg Series)
With God on Our Side (released)
Farewell
[October]
Eternal Circle (1)
Eternal Circle (2; The Bootleg Series)
Lay Down Your Weary Tune (Biograph)
Lonesome Death of Hattie Carroll (released)
Restless Farewell (released)
The Times They Are a Changin (released)
When the Ship Comes In (released)
Moonshiner (The Bootleg Series)
East Laredo Blues
Bob Dylan's New Orleans Rag (1)
Bob Dylan's New Orleans Rag (2; The Bootleg Series)
That's Alright Mama
Sally Free And Easy
Hero Blues
Classic classic stuff. The Times They Are A-Changin' album is, for my money, the best of the first four acoustic albums. Dylan sounds the surest, the songs are topical without being too heavyhanded, and the production is consistent and top notch throughout.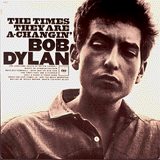 People may have noticed how serious the album sounds, and this is probably the reason many people consider it to be one of his lesser albums. From the session listing above, it's pretty obvious that this was intended all along because hardly any of the songs performed at the sessions are of a humorous nature, and those that are are still rendered in a somber manner. Check out The Eternal Circle for an example of how this is done. Even though the lyrics are funny (singer trying to rush to the end of his long long song so he can go talk to a female admirer in the audience), the delivery is sad in a way ("the song it was long and it was far from the end", etc.). Then there's a couple of joyful anthems (Paths of Victory and When the Ship Comes In) that are serious enough lyrically but done in a happy style. The effect is still somber nonetheless. Finally, there's the famous Cough Song (which we now know by its true title Suze) which doesn't fit in at all with anything else done at the session. I think it was just Dylan fooling around between takes. No apparent attempt was made to actually finish the song.
I really love this album, but just as good as the songs on the released version are all the tracks that never made it to the final release. The best of these are Only a Hobo, Walls of Redwing, Seven Curses, and the two that did eventually see official release: Percy's Song and Lay Down Your Weary Tune. None of these songs would have felt out of place on the album. It's interesting to note that with the release of The Bootleg Series, most of the material recorded at these sessions is now available.
Sound quality for the official album is of course excellent. The outtakes have been heavily bootlegged and often show up in sound equal to that of the official album. The best I've heard yet are on the Ten of Swords boot.
CDs:
LPs:
---

Back to Tape Index