The Freewheelin' Sessions
April 1962 through April 63
(promotional edition released April, 1963; standard editon released May, 1963)
[April]
Baby Please Don't Go
Let Me Die in My Footsteps (released on promotional edition and The Bootleg Series)
Milk Cow Blues (1)
Milk Cow Blues (2)
Rocks and Gravel (1)
Talking Bear Mountain Picnic Massacre Disaster Blues (The Bootleg Series)
Talking Hava Nagilah Blues (The Bootleg Series)
Wichita (1)
Wichita (2)
Worried Blues (The Bootleg Series)
[July]
Babe I'm in the Mood (1;Biograph October, 1985)
Babe I'm in the Mood (2)
Blowin in the Wind (released)
Corrina, Corrina (1)
The Death of Emmett Till
Down the Highway (released)
Honey Just Allow Me One More Chance (released)
Quit Your Lowdown Ways (The Bootleg Series)
Ramblin Gamblin Willie (released on promotional edition and The Bootleg Series)
[October]
Ballad of Hollis Brown
Corrina, Corrina (2; released)
Going to New Orleans
I Hear That Lonesome Whistle
Kingsport Town (The Bootleg Series)
Sally Gal
Watcha Gonna Do
[November]
Corrina, Corrina (3; single released Dec. 1962)
Don't Think Twice (released)
Mixed Up Confusion (1; single released Dec. 1962)
Mixed Up Confusion (2)
Mixed Up Confusion (3; Biograph)
Mixed Up Confusion (4)
Mixed Up Confusion (5)
Rocks and Gravel (2; released only on promotional edition)
Talking John Birch Society Blues (released only on promotional edition)
That's Alright Mama (1)
That's Alright Mama (2)
[December]
A Hard Rain's a Gonna Fall (released)
Bob Dylan's Blues (released)
I Shall Be Free (released)
Oxford Town (released)
[April 1963]
Bob Dylan's Dream (released only on standard edition)
Girl of the North Country (released only on standard edition)
Masters of War (released only on standard edition)
Talking World War III Blues (released only on standard edition)
[NOTE: see Krogsgaard's session notes for detailed recording date information]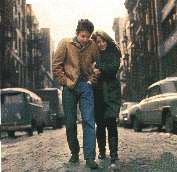 Lots and lots of really great songs were recorded at these sessions. For the very first time Dylan's true songwriting genius was becoming clearly evident. Up to this point he could only be thought of as an interesting performer who also wrote a few of his own songs which were mostly reworkings of traditional folk songs. Even though his songs were still basically transformed folk songs, it was obvious that he had an incredible talent for lyrics unlike anyone else on the music scene at the time.
It may seem incredible nowadays, when every singer/songwriter is perceived to be a sensitive "poet", that Dylan was unique in this regard, but he was. While the idea of protest songs was hardly new at the time, the way in which Dylan went about writing them certainly was. Most protest songs at the time, usually referred to as "topical songs", were union songs or civil rights anthems with a narrow viewpoint (us against them) told in black and white terms. True, some of Dylan's protest songs from this period do not stray too far from that rigid mold (he wouldn't reach the apex of his protest period until the next album The Times They Are A-Changin' where he turned protest music into an artform), but some of the ones that appear here are very unusual and show great potential.
You may have noticed that relatively few of the songs on the list above are of the protest variety. That's because originally the Freewheelin' album wasn't intended to be a "protest" album at all. Initial sessions were done with session musicians and the sound being strived for in those early sessions was a sort of rockabilly style popularized by the early Elvis Presley with a touch of Hank Williams thrown in for good measure. Furthermore, the songs performed at the early sessions were more traditional than original. The intention seems to have been to take the concept of the first album one step further and turn Dylan full-blown into a great country/folk/blues/rock performer and not the serious folk purist he was later perceived to be. Somewhere along the line this approach was scrapped and the folk/protest angle was played up. Only one of the full band songs appeared on the final album (Corrina Corrina, although Rocks and Gravel ,which appeared the rare first edition of this album, was also from the electric sessions) and one single, Mixed Up Confusion/Corrina Corrina (different take from the album version) was also released from the sessions as well.
By the time the final album appeared, with new tracks produced by Tom Wilson despite the credit given to John Hammond, there was hardly any trace at all of Dylan the country/folk/blues interpreter and more of Dylan the protest songwriter. To me the final album is a mess and it has never been one of my favorites. Had Columbia stuck to their original concept things would be much different. However, it's also possible that if they had stuck to that first concept we may never have heard of Dylan because it was his songs, and his protest image, which gave him his initial fame in the first place.
All songs are available in excellent sound on various records, most importantly on the official album itself.
CDs:
LPs:

In the Mood (all Freewheelin' outtakes)
GWW - Talking' John Birch Society (two of the deleted songs)
GWW - Talkin' Bear Mountain (all Freewheelin' outtakes)
Ten of Swords (contains some Freewheelin' outtakes)
---